The Late Dr. John Swift
John passed away on Friday, 20th. May 2016 at Newton Stewart Community Hospital, a short distance from his home at Garlieston, Dumfries and Galloway. The cause of his passing was Bronchial Pneumonia, although he had suffered frailty for some time having grieved over the death of his wife, Jacquie on the 23rd. January 2013.
John's funeral service took place at 12pm on Wednesday the 1st. June at Roucan Loch Crematorium, Collin, Dumfries & Galloway, DG1 4JF.
If anyone would like to make a donation in memory of John, please send cheques made payable to ''Newton Stewart Endowments', ref. Dr. John Swift 20.05.16 to Marcus at John's former home address:
Seaside House, 2 South Street, Garlieston, Newton Stewart DG8 8BH
Given the contribution that Dr. Swift made to our school and the early development of the Moseley School of Art Association, a donation of £100.00 was made in gratitude on behalf of the subscribing members of the Association in lieu of a floral tribute.
Having agreed to write a eulogy for John Swift's funeral, I thought it more appropriate that someone who had actually been taught by John should write the eulogy on behalf of ALL former students, rather than just the members of the Association.
I invited Dave Allen to do this, knowing how highly he regarded John as a teacher, and his eulogy, together with many others, was duly read out at the service by Marcus, John's eldest son. The eulogy (reproduced below) was very well received. Marcus has described the funeral as a hard but excellent day, with a number of people reciting poetry and personal tributes from friends and former colleagues.
Marcus asked that the family's gratitude be passed to Dave and the other contributors, also for the donation to John's chosen charity (above) by members of the Moseley School of Art Association.
Eulogy for Dr. John Swift by Dave Allen: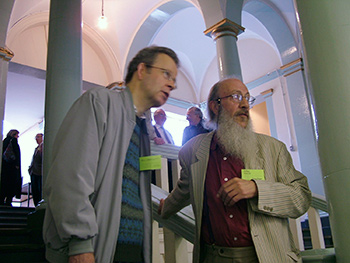 "John Swift, teacher and Head of Arts and Crafts at Moseley Art School, Birmingham, and subsequently Emeritus Professor of Art Education at The University of Central England, was a man who's work impacted many lives. I am writing as one of those individuals, but I hope this resonates with many others who knew him.
John Swift was a maverick. If that sounds like a disrespectful thing to say, it is not.
Maverick, noun:
"An unorthodox or independent-minded person. Synonyms: individualist, nonconformist, free spirit, unorthodox person, unconventional person, original, trendsetter, bohemian…".
When he taught you it felt like you were being taught by a bloke, a great bloke, who had found himself teaching. He spoke with great authority and gravitas about Art and the arts, without adopting the conventions of most teachers and he didn't react like most teachers would. There's a certain amount of acting in teaching and students know this. Yet we were confronted by a man who didn't seem to be acting. And, far from following a conventional teacher-actor approach he seemed to think from first principles on just about everything. We hung on his every word. My first reaction when I heard of his recent passing was blurted out on social media:
"It wasn't just that he was funny, drank his whisky, smoked his Gauloises and was a generally great bloke that I liked John Swift. Like Robert Hughes, he talked about Art in a direct and no nonsense way, an intellectual we were lucky enough to have as Art teacher and head of Art at Moseley Art School. A massive role model."
Others said:
"Expressing a three dimensional form on a flat picture plane possessed him and he passed this onto us." (Phil Orchard)
"I always remember his odd socks!" (Deborah Dormer)
"Monthly crits at school with John swift were an institution. All art work was pinned up around his big room to the left of the main staircase. He allowed us students to be casual for this, as if for some ordeal. We were allowed to sit on the desks for the plenary discussion. A characteristic little cough and a swing of the leg could indicate that he was not going to be very complimentary about the homework done for the for the crit. You always got good advice about your work and it was usually spot on. He was a plain speaking, fair minded thoroughly decent guy." (Cate Hadley)
"He turned a blind eye to us being in the pub at lunch times." (Dave Mattock)
"Although we were an art school, most of my early music education was through John. Rounds (Viva la Musicaaaaaah) and the odd madrigal." (Ross Moore)
"I loved listening to tales of his life in Sheffield I remember him telling us about the steel mills and how if anyone fell in the vats of molten steel they would be pushed under. Gruesome, but a great diversion when you're supposed to be working!" (Antonia Ajao Burrows)
"Due to the teachings of John Swift somewhere between applied art, history of art and art theory a switch turned on in my brain and the whole world exploded: a great gift he bestowed on me and many others." (Maria Cataldo)
"He introduced me and many others to folk music at MSA and the Jug of Punch Folk Club in Digbeth." (Dave Mattock)
"My memory is that he was the first person to show that it's possible to have a passion for painting. He also allowed us to think outside the confines and restraints of traditional work and be "cool". I always wanted to be Bryan Ferry. My brother always wanted to be John Swift. He showed a sense of relaxation, always had a roll up on the go; the first teacher that you could call John rather than Sir. Our group used to spend most of the theory lessons counting his little cough after each sentence." (Rob Allen)
His unique approach combined with a huge intellect is a compelling combination. Moseley Art School was already on the map of pioneering teaching methods, as seen in the work of Marion Richardson, and John Swift was perfectly suited to MSA environment. He told me that he would not teach us to pass the
exam, but to be good at Art: he was right – the exam grades and success of students is the stuff of legend.
One of his last publications was An Illustrated History of Moseley School of Art: Art Education in Birmingham 1800-1975 (2004), a project had wanted to undertake when approached by Graeme Collins of The Moseley School of Art Association.
Through my years at Art College I still referred to him as much as to my lecturers, taking my work to his house and getting private 'crits'. And then we'd often have a drink and a long conversation into the night. This was typical of him. He stayed in touch with his students and attended their degree shows, even after he had moved into the world of academia.
"He encouraged me in my love of Renaissance art and was totally self-effacing when I spoke to him in recent years about the book on MSA's history! He clearly remembered me after 35 years. A lovely human being." (Susie Venable)
I've been teaching for a long time now, and still, when pondering an issue, I ask myself what would John Swift have thought about this? Not everybody has the opportunity to touch the lives of so many others, and not many are capable of doing it in the way John Swift did: an artist, an intellectual and a maverick".