Sculptor and painter Amelia Shaw-Hastings was born in 1924, and at the age of 12, Amelia was awarded a place at the Moseley School of Art, Birmingham, where she remained until 1939 when she became a student in the first intake of the newly-devised Industrial Design Course at the Birmingham College of Art.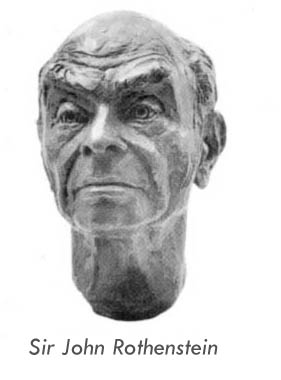 The advent of the War intruded into everyone's life, and Amelia was seconded to assist the war effort between 1942 and 1946 carrying out, among other things, technical illustration for Army Field ManualsAmelia later worked for several years in London in the fields of technical illustration and graphic design and became Art Editor for several trade journals. Following her marriage to a scientist, Amelia gave up commercial art, and, after the War, she became a sculptor . . . a difficult vocation when you have four young sons. Amelia turned this to her advantage, and used her sons as models, even keeping a modelling stand behind the kitchen and bathroom doors so that she could capture whatever time was available to practise her art in sketches and wet clay.
Amelia held her first one-person show at the John Whibley Gallery, Cork Street, London in 1971.
Amelia loves to strive to capture and express form and movement - whether it be by means of her sculpture or by the use of brush or pencil. This love has led to her being interested in dancers, actors, clowns and mime artists, and she has worked with many theatre companies.
Her skills in sculpture have led to many commissioned portrait heads and busts of well known celebrities and personalities from the United Kingdom and abroad. These include:
Stephane GrapelliSir John RothensteinZoe Wannamaker
Stirling Moss
Amelia worked in many locations including Paris, Provence and Germany, and has exhibited widely both in the United Kingdom and abroad.
She was elected an Associate of the Royal Society of British Sculptors in 1988.
La Jolla, California, USA
The Mall Galleries, London
Royal Academy, London
Institut Francais, Copenhagen
Royal West of England Academy, Bristol
The Barbican Theatre Gallery, London
Centre d'Art Celtique, Paris
Audio Visual, Paris
RSC Theatre, Stratford upon Avon
Old Vic Theatre, Bristol