The 2014 Whole School Reunion and AGM was held at the Moseley School of Art building, Moseley Road, Birmingham on Sunday, the 18th. May.
Voted THE BEST YET by our members . . . . .
The 11th. reunion of the Moseley School of Art Association to be held at the old school building took place on the 18th. May 2014. We enjoyed an excellent attendance, with a large number of our former pupils bringing in multiple artworks for exhibition on the day. We have never received so many compliments about a reunion. Whatever it was - the bright warm sunny day, the particular mix of people who attended, the large number of works of art brought in for the exhibition . . . there was a special synergy in the old school building that made for a very, very happy day.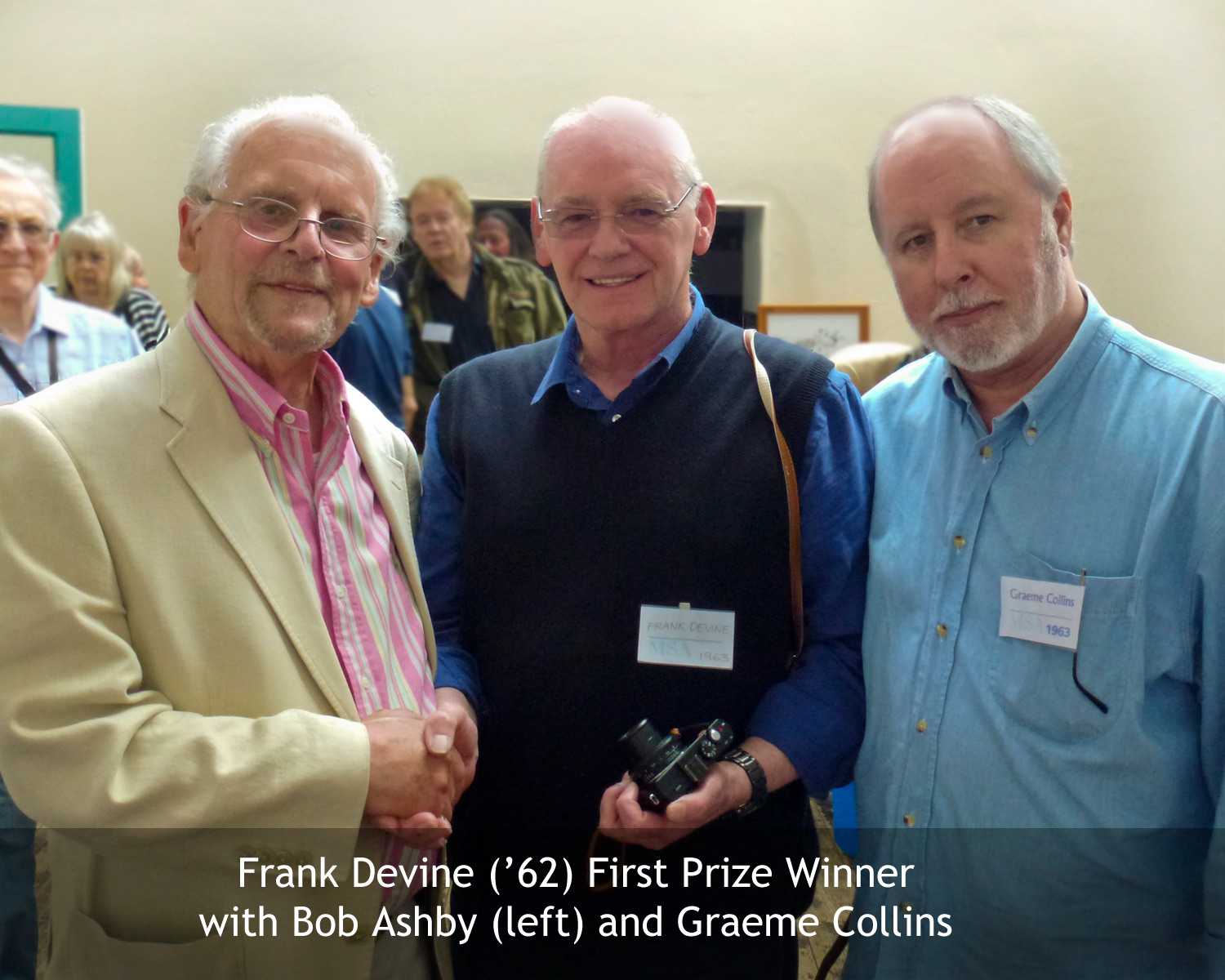 We were fortunate to have Audrey Fletcher (Harris)(former Head Girl '62) and her lifelong friend Sally Berry (Reed)('62) volunteer to take care of admissions for us. Audrey married Roger Fletcher, her classmate from our school, who was unable to be with us. Audrey, Sally and everyone else were looking forward to meeting David Woodcock ('62) again, but unfortunately his trip over from Vermont, USA wasn't possible due to other commitments.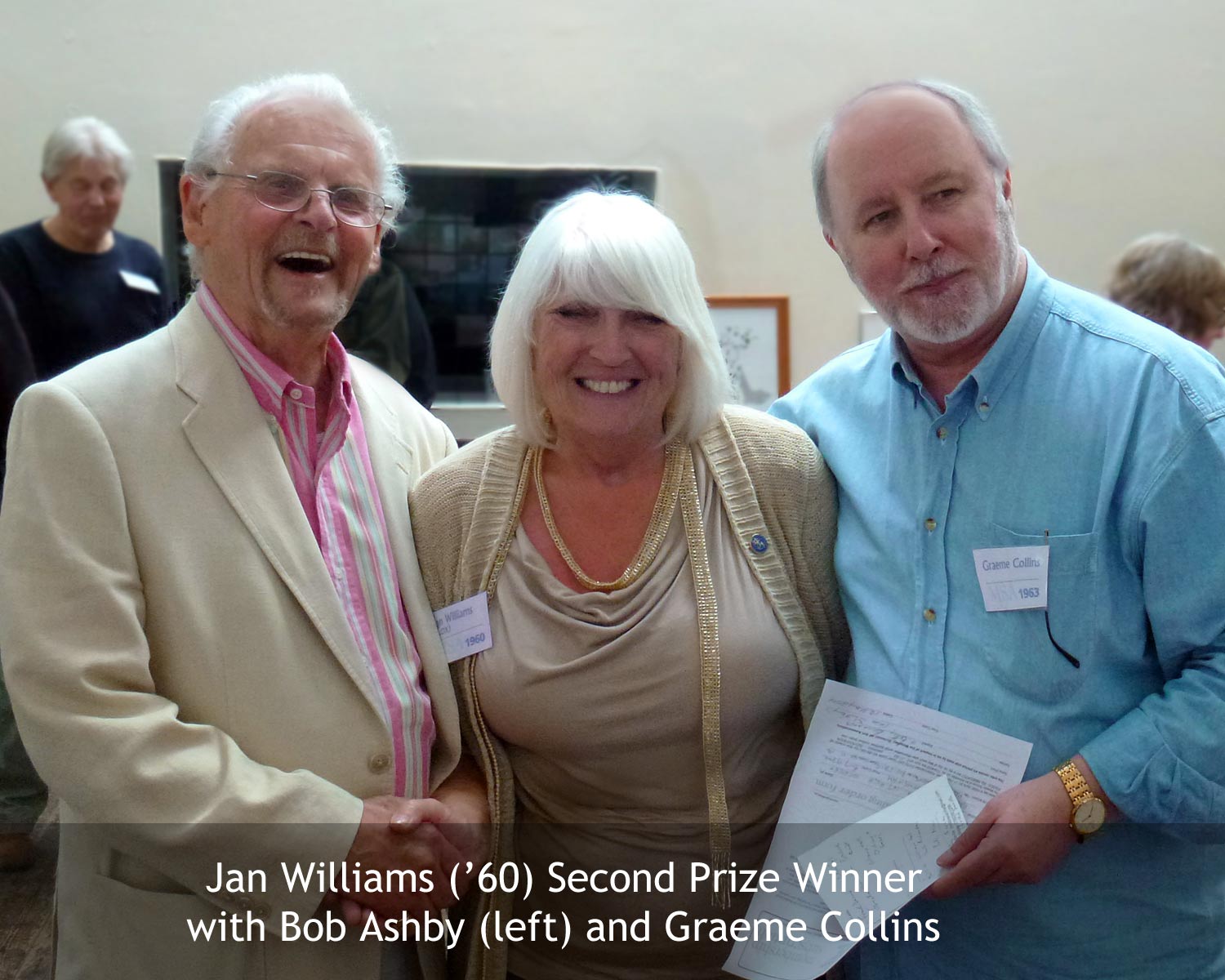 The special bond between us all, having been pupils at the school, removed any barriers between people who had attended during different years or, indeed, different eras, as always. Everyone felt that it was the happiest reunion so far. It's always emotional to see people meet for the first time in 40, 50 or 60 years. We never reveal who is coming, so it can be a revelation when people who were close friends all that time ago are able to shed the years and recollect events from their time at the school with such perfect clarity, and renew their friendship for the future.
Yet again, we added to the 900+ personal reunions of former schoolfriends achieved by the Association over the last twelve years. It was particularly enjoyable for the President to meet up with a number of his friends from the leavers of 1963-4. As Graeme is proud to be a freemason and Secretary of a Bromsgrove lodge, he was very pleased to welcome a couple of freemasons who are also former pupils.
THE EXHIBITION
The exhibition took the form of an impromptu "bring whatever you like as long as you created it yourself" theme, and it was left to the exhibitors to decide whether the work was for sale.
Our members certainly took us at our word, and the former classrooms were bedecked with works of art - the exhibitors turning up early to secure the best positions for their work. We're grateful to Jan Williams ('60) and Ron Carter ('60) for their efforts in helping exhibitors to display their works. The exhibits ranged from drawings, etchings, prints, pastels, oils and acrylics, through to quilting, dressmaking and scale model loco trucks. We were particularly pleased to see that former teacher Bob Ashby had brought three works for exhibition. Following the AGM everyone thronged down the stairs for our sumptuous lunch among the exhibits.
The President wanted to ensure that there could be no implication of favouritism, and appointed as judges former teacher Bob Ashby and former student Phillip Westwood, who lectured at Stourbridge Art College. The judging process took place, and the prizes were awarded as follows:
FIRST PRIZE £200 Frank Devine ('62) Etching

SECOND PRIZE £100 Jannette Williams (Cox) ('60) Patchwork Quilt

THIRD PRIZE £50 Christine Saville ('65) Egg Tempera Painting

JOINT FOURTH PRIZE £25 Bill Hall ('59) Loco Trucks

JOINT FOURTH PRIZE £25 Michael Richardson ('49) Oil Painting

JOINT FOURTH PRIZE £25 Peter Owen ('60) Oil Painting

BRIAN BAILEY PRIZE $100 Christine Saville ('65) Egg Tempera Painting
We are still waiting for photos of the works to reach us for inclusion - please forward yours if you have any.
Each of the winners will also receive a special certificate to mark their achievement. We are grateful to Brian Bailey ('46) (California, USA) for his generous sponsorship of the Brian Bailey Prize.
The President wishes to praise all of the exhibitors for the quality of their work, to congratulate those who were awarded the prizes, and to commiserate with those who were unlucky on this occasion. Clearly there is an appetite for an exhibition to accompany our Annual Reunion, and it was evident that this was partly due to the absence of entry fees, hanging fees and other formalities.
In order to ensure that everyone feels that their work has been properly considered and fairly judged, there will, from next year, be a different approach to categorising works and the formation of a judging panel.
Please start creating your exhibits for our 2015 show now!
THE 2014 ANNUAL GENERAL MEETING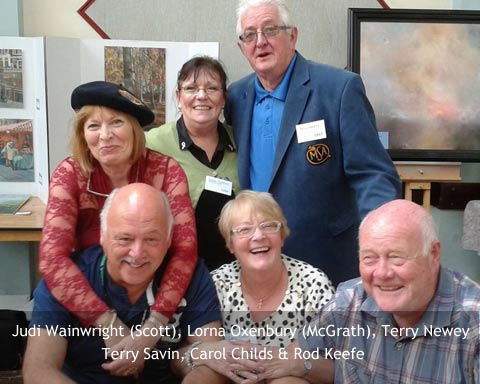 The President invited Judi Wainwright ('68) to call those present to order with the school bell at 11am. The President then opened the Annual General Meeting in the (first floor) Drawing Room by welcoming everyone to the 11th. reunion organised at the school by the Association. He welcomed those who, in particular, had travelled great distances to be with us, including Bob Sedgley (1959) who travelled, yet again, from his home in Valencia, Spain, Judi Scott (Wainwright)(1968), who had travelled from Northern Ireland, and Frank Devine, who had travelled from his home in Cumbria. He extended a particularly warm welcome to former teacher and MSAA Academic Officer T.H.W. (Bob) Ashby who taught at the school for 25 years following active service in the Royal Navy. We were all delighted to see him looking so fit, well and happy, and to see that he had brought a selection of excellent works for inclusion in our exhibition. He also made special mention of those attending who left our school in the 1930's and 1940's, of which there were a good number.
Apologies Graeme stated that he had received 137 apologies, 14 of these being from overseas members. It appears that the economic climate has created a mindset of thrift, as the number of former pupils who travelled from overseas was much smaller than usual. The apologies included that of Mr. Jack Taylor (former Head), who is well, but now suffers from deafness and felt that the meeting would be too much for him. He asked that we forward his very best wishes to all those who remember him, and best wishes for a successful reunion. Barbara Faulkner (Woodward) ('61) who attended the school as a pupil and later returned as a teacher, forwarded her apologies as she was committed to an important family occasion. Barbara has returned to painting following her retirement, and is craeting large scale works. We hope to see some of them at next year's exhibition. Having made enquiries about former teacher Stanisa Vlahovic following unsuccessful attempts to contact him by phone and mail, the President stated that Stanisa's house was sold four years ago. The President reminded those who can't attend our reunions that the courtesy of an apology would be welcome so that we may keep track of our members.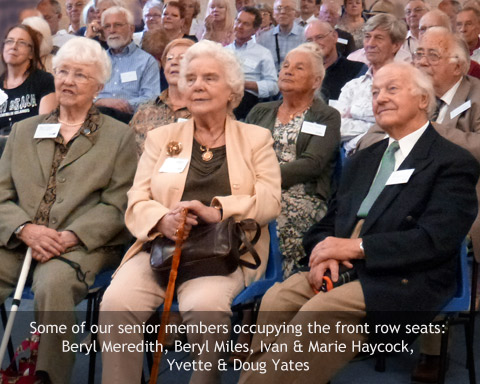 Obituary The President announced that the following members had passed away since the last reunion.
Judith Every (Bowater), former Head Girl for the Class of 1961, passed away on the 13th. November 2013 following a long battle with cancer. Her funeral took place at Lincoln, where she lived.
Jeannette Bailey (Orford) former Head Girl for the Class of 1953,passed away suddenly on the 22nd. December 2012. Jeannette had only recently discovered our website and was thrilled to see herself in her class photograph for the first time in 60 years.
Stewart Millington passed away at his home on the 27th. December 2013 following a short illness. Stewart was a loyal and committed member of the Association, and had attended every one of our reunions.
Julian Court who attended Vittoria Street between 1947-50, passed away October 2013.
David Williams (1947-50) who died suddenly on the 25th. September 2012. David lived in a house built on the site of David Cox, the English watercolourist.
Brian Lapworth (1948-51) who passed away on the 8th. July 2012 following a long illness. Brian was one of the select few who married his childhood sweetheart from the Moseley School of Art, marrying June Newell (1948-51).
Jacquie Swift Although not a member of staff at our school, many former pupils will remember Jacquie, who was the wife of former teacher Dr. John Swift. Jacquie passed away on the 23rd. January 2013 following a very long and determined battle with cancer.
Ralph Bliss (1941-44) passed away March 2013. No further details known.
David Gunter (1954-57) who passed away 2012. No further details known.
Robert (Bob) Griffiths (1960-63) Passed away 2013. No further details known.
Terry Neal (1947-50) Terry, a former lithographer, died during 2012 following a long period of severe disability caused by a stroke sustained while he was having a minor operation. He was a friendly, energetic, willing and resourceful man who was always prepared to take on tasks for the benefit of the Association. As Assistant Exhibitions Secretary, he was largely responsible, together with a willing and enthusiastic team headed by Pam Headord (Gilbert)('57), of constructing the extensive stands for the 2005 Spring Exhibition at the school.
John Spall (1954-57) John, who was Head Boy for the Class of 1957, passed away 27th. February 2013 following a long illness.
David Prentice (1949-52) Last but certainly not least, we have to announce the death of one of our more well-known former pupils. David, who became a celebrated landscape painter, passed away at his Malvern, Worcestershire home on the 7th. May 2014, just four days after he opened his exhibition 'Skylight Landscape' at the Worcester Art Gallery. The show will continue to run until the 5th. July 2014. Although not a supporter of our Association, we feel proud that he was a product of our school. A brief obituary appears on our 'News' webpage HERE and a formal obituary will appear on this website in due course. An outline of David's career can be seen HERE
The President then asked all those present to stand in silence for a short time in memory of these and all other former students and friends who are no longer with us. He asked that they should include in their thoughts Del Evans , recently departed husband of Gill Evans (Taylor)('60). Whilst not a former pupil, he was a regular attendee of our reunions and a lovely man.
Minutes of the 2012 AGM The minutes of the 2012 Annual General Meeting were then related to those present. The most important items were the election and appointment of officers, these being the re-election of Graeme Collins as President, the re-election of Bob Ashby as Academic Officer, and the appointment of Wendy Collins as Honorary Treasurer. As Wendy has undertaken a huge amount of work on behalf of the Association, a vote of thanks had been proposed by Ivan Haycock ('44), seconded by Mike Richardson ('49).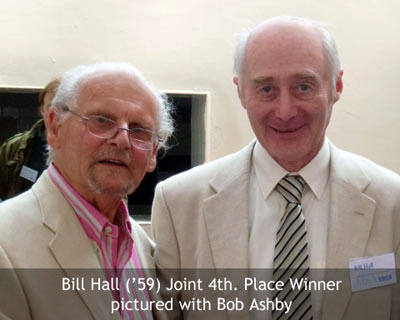 Financial Statement On behalf of the Treasurer, the President briefly discussed the Association's finances and announced that we have a satisfactory balance at the bank.
Election of Officers The President, Graeme Collins, invited proposals for the office of President. There being no other proposals, Graeme agreed to remain in office for the forthcoming year. The President then asked for nominations for the office of Treasurer. Wendy Collins was duly re-elected. The President stated that he felt sure that former teacher Bob Ashby would wish to continue as Academic Officer, and he was re-elected unanimously. It was with great pleasure that the President announced that Jannette Williams (Cox)('60) had volunteered to take on the office of Exhibitions Secretary if so elected. The President stated that he had no hesitation in recommending Jan for the office, and she was duly proposed, seconded and elected unanimously. The President stated he felt confident that the exhibition at our 2015 reunion would be a great success under her leadership, and asked that all of our members should support her.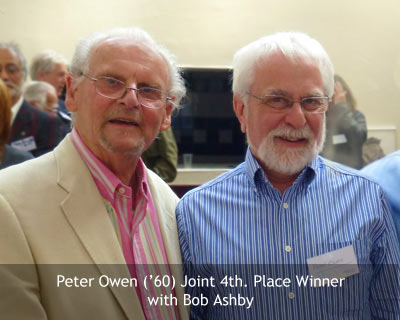 Subscription for 2014/15 Following a brief outline of the nature of our subscription arrangement, the President was pleased to recommend that the annual subscription should remain unchanged at £17.50. Members who live overseas will continue to be entitled to membership without payment of a subscription. The President emphasised, however, that the number of members paying via Standing Order had decreased over the last two years, and that THIS WAS A TREND HE WISHED TO SEE REVERSED. The work and future of the Association was, he said, the concern of every former pupil of the school.
The Treasurer had intimated that a large number of members were still paying the wrong amount because they hadn't submitted fresh Standing Order forms following the increase to £17.50, with some members still paying £10.00 or £15.00. Fresh Standing Order forms were available at the meeting, could be downloaded from HERE and would be forwarded with the next Association newsletter. The President reminded those present that it is their commitment that helps the Association to thrive and progress with everything we do.
Email Addresses for Members The President said that more than 60% of the email addresses held for our former pupils are now out of date due to them either moving home or internet service provider. He requested that EVERYONE send him an email so that their email address could be updated where necessary. When the burden of running the Association falls to a single person, ease of communication is essential.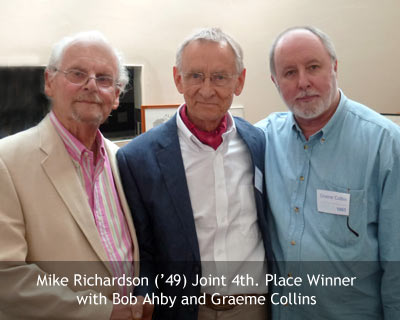 Review of 'At Last - the 1961 Show' The President informed the audience that he felt, during his own years at the school, that the synergy among the pupils of the Class of 1961 gave those pupils a stimulus that can only be gained when artists are exposed to the work of others in close proximity under the tutorship of a master, in our case, our teachers. The same principal had endured down the ages, and had been the basis of the 'studio' system that created an accelerated education for young trainee artists since the Renaissance and before. He then invited former pupil Phillip Westwood ('61) to describe how he and his friends from his time at the school conceived the plan to hold an exhibition of their works so long after leaving the school. Phillip explained that he had decided to take on the role of organiser himself, to plan the exhibition himself, and to organise the publicity material and promotion himself, as he hated committees and felt strongly that this was the best way for successful enterprises to take place. He continued by saying that he explored various different venues, and decided on the Long Room at Hanbury Hall, Droitwich, a National Trust property.
The exhibition duly opened on the 8th. September 2012, and ran until the 20th. September. Among the works of very high quality exhibited were those by Phillip, Peter Hayes, John Norton, Neil Rogers, Ron Holmes, Pamela Hawkes, Trevor Amphlett, Tony Williams, Steve Kefford and Philip Galley, who now lives in Kenya. Works were also exhibited by Paul Bartlett, winner of the £25,000 'Not the Turner' Prize 2004, and former teachers T. H. W. (Bob) Ashby, Barbara Faulkner (Woodward) and Alan Rees.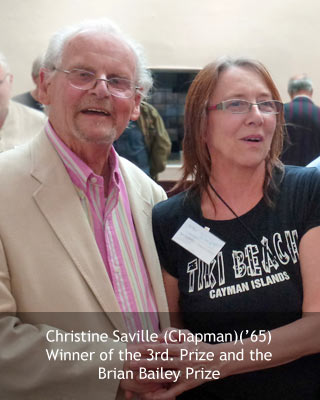 Phillip then related his memories of David Prentice from his time as a student at Birmingham College of Art. The main thing remembered by Phillip was that David was kind in his approach to students; something he himself later did when a lecturer at Stourbridge College of Art.
Refurbishment of the Moseley School of Art Building The appearance of the once beautiful facade of our Grade II (Star) listed school building continues to cause grave concern. Indeed, we received quite a large number of apologies from members who felt it too upsetting to attend the reunion this year, only to see the building continue to crumble at an accelerating rate.
Mr. Javed Arain, for the owners, requested an opportunity to speak to our meeting to introduce a consultant who has been retained to prepare an application for a grant from National Heritage. He was allowed the opportunity, and his consultant, Carl Franklin, outlined his brief from the owners. He asked if our Association would submit their thoughts on the future of the building, saying that ideas that would involve education and culture on an ongoing basis would add weight to the grant application. The President was asked by the owners and Mr. Franklin to nominate representatives and arrange the interviews and consultations, which he agreed to do.
Any Other Business A number of minor items were discussed. Gerald Whiles ('50), a former pupil of Vittoria Street, was, for many years, the Head of the Birmingham School of Jewellery. He was, during his time at the School, responsible for overseeing the refurbishment of the building, and stated that he will be happy to assist in the forthcoming consultation process.
There was no other business.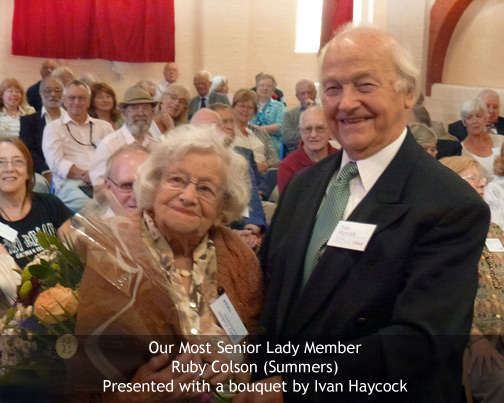 Most Senior Former Student Present It has become a custom at our meetings for the most senior female former student present, representing the many thousands of girls who passed through the gates of our old school, to be presented with a bouquet as a token of our love and esteem.
On this occasion, our bouquet was once again awarded to "Auntie" Ruby Colson (Summers) who left our school in 1935.
Ruby is pictured (right) being presented with the bouquet by Ivan Haycock ('44).
Two of our senior female former students were unable to join us on the day, and will receive floral bouquets. They are Poppy Grainger ('34) and Muriel Reay ('34).
---