_________________________________________________________________________________________________
ROBERT BALL
A.R.C.A., R.E., R.B.A., R.B.S.A., R.W.A.
11th. July 1918 - 21st. February 2008
Robert (Bob) Ball was born during an air-raid in Birmingham on July 11th 1918, the son of a silversmith. He gained from his father a wide knowledge of horticulture, a lifelong love of gardening and most importantly his ability to turn his hand to absolutely anything of a practical nature.
He was still at elementary school when it was first noticed that he possessed skills in art and craft, especially drawing, far beyond his years. His school report described him as "a nice boy" and "extremely reliable". Although he passed the entrance exam for the Grammar School, his extraordinary drawing ability enabled him to be selected to attend the Moseley School of Art along with his younger sister, Dorothea. Whilst there, he won countless awards, prizes and scholarships including one for a plant study from the Royal Horticultural Society for his remarkably precise depiction in pencil and watercolour of a "Marrow Showing General Growth". (ref: JB Priestly in his book English Journey)
His future wife, Barbara Minchin, was a fellow pupil at the school.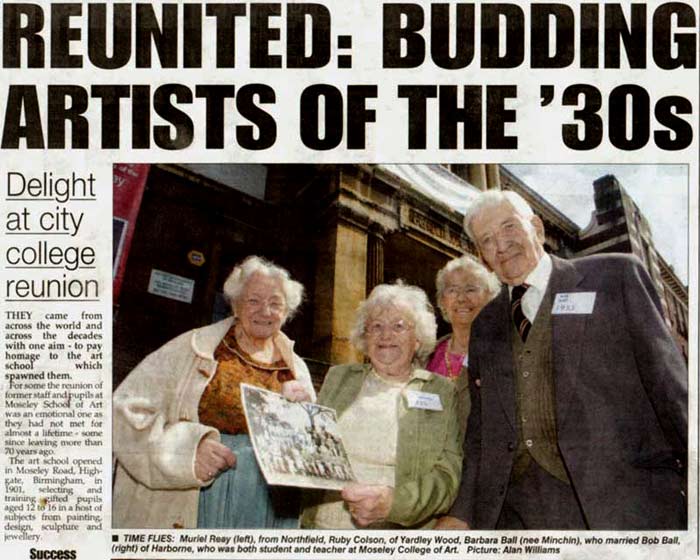 Cutting from the Birmingham Post, covering the May 2005 reunion, picturing Bob and wife Barbara (rear), with her best
friend at MSA, Muriel Reay (left) and Ruby Colson (nee Summers)
In 1933, when he was still only 15 years old, he gained a scholarship to the Birmingham College of Arts & Crafts. For the first time in his life, he travelled alone to London bearing a print destined for the Print Room at the Victoria and Albert Museum. He had never been on an underground train before. From the noise and swerving he said that he felt as if he were "going down a giant worm hole into the centre of the Earth". This experience later inspired his major work entitled "Ambiguity" in which he explored ideas of life after death, the traditional and pearly-gates view of Heaven and man's increasing use of technology. In 1937, at the age of 19 years, he won the prestigious British Institution Scholarship (worth £150) for engraving and this self portrait was then exhibited in a number of galleries including the Royal Academy of Art in London.
Bob had a number of interesting part time jobs: teaching cake design at the Birmingham Bakery School, occasional art supply teacher, working as an illustrator and writing reviews of historical monuments for the Birmingham Mail and The Gazette. By 1937 he was employed as an art teacher at Moseley Road School of Art and also branched out into the commercial world. He enjoyed being involved in war work at Charlesworth's where he was employed as a draughtsman. He volunteered for the Royal Engineers at the outbreak of war but was deferred for medical reasons.
In 1941 he won a full 2½ year scholarship to study engraving at the Royal College of Art which had evacuated to Ambleside in Westmorland. He loved the Lake District and passed his love of mountains and walking on to his children and grandchildren. He climbed The Old Man of Coniston and Scafell Pike with his grandchildren, Claire, Ben & Sophie when he was in his 70's (1991). It was during his time in Ambleside that he became engaged to Barbara. In 1943 he was elected to be an Associate Member of the Society of Painters, Etchers and Engravers and from then on he was elected to many more prestigious societies. Bob and Barbara were married in 1944 at St Peter's Parish Church in Harborne, Birmingham and they spent their honeymoon at Bull's Cross in Gloucestershire. They immediately fell in love with the area of Slad and Painswick, although they returned to Harborne, Birmingham and lived there for another 7 years. During this time, whilst teaching etching, drawing and painting, he was a prolific worker, producing many works of national acclaim. His glimpses of inner city scenes are now of great historical value.
In 1951 he moved to Gloucestershire with Barbara and their children David and Rosalind on his appointment as Principal of the Stroud School of Art. During this time he lived at Slad, Caroline was born and he became friends with Laurie Lee and Frank Mansell. He was extremely hard working and was blessed with a good measure of foresight and judgement. He gave up vacations and weekends to build up the small, run-down school of art. He trebled student numbers and expanded options and courses. Three classrooms became nine well equipped rooms. He was popular with both students and staff. The Chief Education Officer noted that "He had the rare gift of instilling enthusiasm into young students". His unique teaching style is fondly remembered by his ex-students. One recently wrote "He was the best of all teachers. He always explained how to do things where others could not". Others recall anatomy classes where he penned the muscles and bones onto his own arm to emphasize his point! He finally resigned the headship in 1959 because he saw it would be beneficial for Stroud to amalgamate with Cheltenham College in order to jointly gain the right to be awarded the rare, but prestigious new Diploma Course. They became The Gloucestershire College of Art, based in Cheltenham and Stroud.
This gave Robert a little more time for his own work and when, in 1974, Frank Mansell invited him to illustrate his book of "Cotswold Ballads" he accepted the challenge. Robert devoted many months to producing a collection of the most wonderful wood engravings. Before he retired he was Senior Lecturer in painting and drawing in the Fine Art Department. He finally retired from teaching in 1981 but meanwhile he had turned his hand to construction work. He built his own studio and after completing "Ambiguity" he began to concentrate full time on print making, watercolours and ambitious canvases including portraits and landscapes in oil. Locally, two of those portraits are hanging in Marling School Hall.
Further examples of Robert's work are displayed or held in collections all over the world; galleries at home include The Victoria & Albert Museum, The Ashmolean, Birmingham Art Gallery, Cheltenham, Gloucester and Hereford Art Galleries. Over the years he had a number of works exhibited at The Royal Academy, The Royal West of England Academy, The Mall Galleries and The Royal Birmingham Society of Artists. He regularly held his own exhibitions in Painswick, Stroud & Cheltenham - his last was a joint exhibition, in the summer of 2006, with Martin Aicheson in Painswick Town Hall. His exhibitions have included etchings, line engraving, aquatints, intaglio, mezzotints, lithographs, wood engravings, water colours, oil paintings, substantial landscapes and portraits. One of his finest works was "The Mask" produced in 1941. The most stunning aspect of this work was the luminous quality he achieved. By placing the mask against a flat, black background he achieved the most beautiful but haunting quality. The mask was an image of his own face.
Bob & Barbara moved to Painswick in 1984 where he designed a second, larger studio. He continued his work and was able to devote more time to his family and travelling abroad.
Throughout his life he renovated old houses, old cars and neglected gardens. He often took on projects of monumental proportions. He used to declare "Never say 'I can't". When he was in his 80's he undertook the construction of an impressive flight of 24 ornamental steps in his daughter's garden. At the same time he instigated the successful campaign to save the Stroud School of Art, which was threatened with closure.
When his children were young he acquired an old, bright-green, de-commissioned ambulance and drove them round the entire coast-road of Britain. The family lived and slept, rather uncomfortably, in the back of the van. Later, in rather more comfort, he drove them all over Europe. As Bob became older and a little better off he went on organised holidays and travelled as far as the Holy Land. In 2007 he travelled to the Alsace. In his later years he enjoyed regular large family gatherings at Porthscatho on the Roseland Peninsula. He loved the sea and a lifetime's ambition was realised in March 1999 when, although now registered blind, he joined the crew of an old sailing ship, the "Eye of the Wind" and sailed round the coast of Britain.
Bob was a perfectionist in all things, and he deplored shoddiness of execution in anything. He was saddened to witness the declining standards in the level of teaching in art colleges and, as older teachers retired, the gradual loss of knowledge that the traditional art school training had provided. He was dismayed that modern art students now lacked so much knowledge in vital disciplines; form, texture, perspective, light & shade. He himself possessed the most remarkable knowledge of anatomy and he considered this a necessary requisite of any serious student of life drawing. His knowledge of history of art was like a huge database – you needed no other.
Amongst Bob's other passions were bee-keeping and cats. He had 7 cats during his years at Stroud and 5 of them were strays who sought him out as if by magnetic attraction. His latest cat was "Timmy" (Septimus) whom he adored and Timmy was devoted to him in return. He always loved parties and social occasions and had been looking forward to his 90th birthday party. He never missed an opportunity to have a chin-wag and consequently had a wide circle of friends. Bob and Barbara were married for 64 years. Bob leaves his widow, Barbara, 3 children, 5 grandchildren, 3 great-grandchildren and his sister Dorothea.
Bob clearly made the most of his long life, and lived it to the full - enjoying a long and successful career and a loving, close-knit family. His large body of work will be a lasting monument to a former pupil who was a credit to the Moseley School of Art.
It is hoped that we will be able to display some of his works here in the near future.