It's been a long time since seeing the names and faces from the time I was at Moseley (1959 - 62).
I was a good student as a child but failed the 11 plus. So, my parents were very happy that I passed the exam to get into MSA. I wasn't all that sure about it, but it had to be better than the school I was in at the time. I had at eleven been put in St. Michael's Catholic Secondary in the city center area, which was a breeding ground for toughs and fledgling criminals. Starting at MSA was truly a turning point for me; but it was also a difficult change for a 13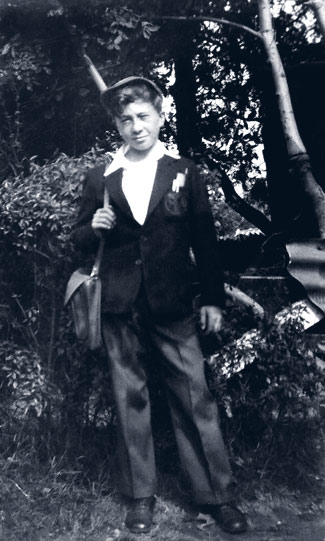 year-old boy, who often found himself in trouble, both in and out of school.
I remember my first day at Moseley, now almost 50 years ago...WOW!
Standing in my assigned class line as a "fag" on my first day, I was poked in the back by the boy behind me for not removing my cap (David Pankhurst?). I turned around and didn't know he was trying to help me and I came close to punching him on the nose. I grew up in Sparkbrook and Smallheath where being tough and a good fighter was most important. Both places had a reputation for being very rough and with lots of crime at that time. Several years ago I visited my old Smallheath neighborhood and things hadn't changed much, or if anything, they where worse than the 1960's.
The local lads (Small Heathens) gave me a difficult time when coming and going in my school uniform, with regular street fights and frequent loss of my blue and yellow scarf and cap. I learned to be good with my fists and was a member of the Birmingham Mint boxing club and fought in a number of amateur boxing contests. My trainer had been an army champion. I even saw Dick Tiger training at the club while I was there...he was brilliant to watch and ended up a world champion in two weight classes. It was pretty impressive stuff for a 13 year-old boy.
One of the "big" playground fights I remember was the Brittle/Waddington matched up: it was a battle. Most would not associate playground battles with "Art School" behavior.
I actually got into a fight with Waddington a little later (very tall lad) and "Percy" broke it up in the playground, but not before we had both landed a few good punches. He arrived the next day with his parents, who where not at all amused by the condition of their son's face. "Dickie" Davies had me dragged into his office and threatened to expel me, but (fortunately for me) Waddington's father /mother would not hear of it. Needless to say, I got punished (again) and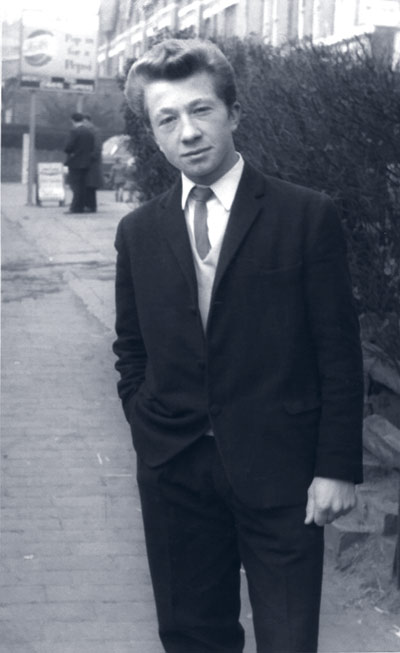 a letter was sent to my parents (again). It's sort of a sad thing that most of my memories are associated with fighting: fortunately, something I grew out of after my mid 20s and several good thrashings in Canada.
On one occasion, after school hours, Barry (BAZ) Brittle and I climbed up to the top of the assembly hall and printed our nicknames BAZ and KOK on the ceiling. We thought it was great fun. Actually it was a really stupid thing to do, considering that most teachers knew the names. We where caned in front of the school for that episode. I remember getting into several playground fights, smoking in the "bog" and being caned by "Percy" Palmer for my troubles.
I remember going to Roy (Nocker) Wood's house with him on one of the times we skipped going to school and instead spent time riding on the buses and walking around the music shops in town. Roy lived with his mom, who really didn't know when or if he was supposed to be at school. Roy was only interested in playing his guitar. Needless to say he was very good at it.
I must say that one of my most memorable events at Moseley was leaving day (or thereabouts) 1962.
A group of us nit-wits had asked to stay away from the leaving service. Instead, we were made to go from room-to-room collecting old dog-eared textbooks, which had to be taken downstairs to the boiler room for future disposal. I had the bright idea that we should "help out" by burning the books in the boiler, so we did! But, we didn't know that the chimney flue had previously been closed for the summer season! Fortunately, the fire was contained in the boiler's firebox.
You may remember that day... when the students returned from the church next door, the school was full of smoke and the teachers where running around like chickens with a fox in the pen. I made an abrupt exit. In retrospect it was for me a most apt departure from Moseley.
I told the "leaving day from Moseley" story to my kids a bunch of times when they were young and they were always amazed that their dad could have been such a bad boy.
After leaving Moseley, I worked for a local printer then went to jewelry design classes at the College of Art and worked in the trade as an apprentice for the Payton Pepper company on Vittoria Street.
I spent a lot of spare time hanging-out at the Golden Eagle pub and blues club on Hill Street. I tried to play blues harmonica, but mostly just collected money at the door. Other ex Moseley lads and art college students went to the clubs in town. I knew Spencer Davis and the Winwood brothers, Muff and Steve. The Spencer Davis band played with blues greats like Sonny Boy Williamson, so I followed them to a lot of blues clubs and dance halls. I have many memories of the mods and rockers era: Long John Baldry the Rocking Berries, The Red Caps at the Brum Cavern Club and getting drunk with Freddie and the Dreamers... Freddie was too much fun, but way too much trouble to be with.
I moved to Canada with my family in 1965. It was a sobering experience (literally) and I hated it at first. It was clearly the best thing for me at the time and kept me from getting into more trouble with the Birmingham constabulary.
I enrolled at the Hamilton Institute of Technology in Ontario while working as a draftsman for a civil engineering firm. I was able to make extra money doing jewelry repair. After a while I was a partner in a coffee house and folk club and booked talent like Joni Mitchell and Gordon Lightfoot. I later attended the University of Waterloo and worked as a design draftsman and engineer in training (EIT) for the Babcock and Wilcox company in Cambridge, Ontario. I designed machinery for a living and made furniture for extra cash.
I moved to the USA in 1976 to start with a new manufacturing firm as engineer manager. The business was owned by an English firm, which was headquartered in Luton. So I came back regularly to England and occasionally to Birmingham to visit with my grandfather. I have traveled and worked all over the world in the past 30 years but have always returned to the Northern New England area.
I now live in the rural Northeast Kingdom of Vermont with my wife Yvonne. Our five children are all grown and (unfortunately for us) living all over the USA. We have three grandsons. As a Senior Vice President for a Swiss owed engineering company, Weidmann AG. I travel to Europe and Asia on a regular basis.
I'm an executive member of the American Society of Mechanical Engineers and an active Member of the Institute of Electrical Engineers (IEEE). I'm really looking forward to my retirement in three years at age 64 and have recently started a small market gardening business with my son and a group of other local producers of organic grown fruit and veggies. We also do residential and commercial landscape design and sell plants and trees to local landscape gardeners.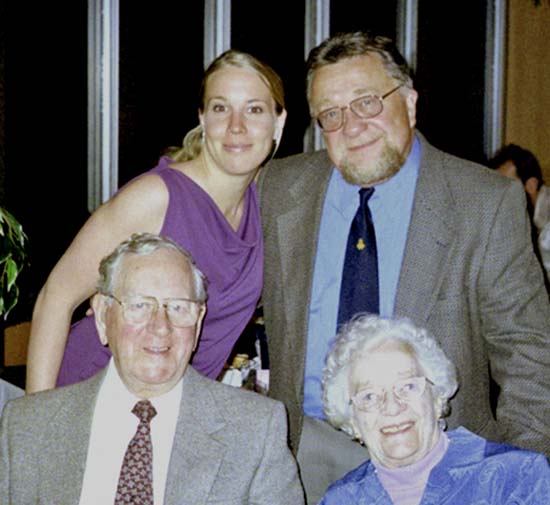 I most remember the metal working classes, sculpting with Freddie Fox and art classes with Mr. Ashby. These classes more than offset Miss Squires English class (She Stoops to Conquer and the Merchant of Venice). I also remember the young Australian teacher who tried much too hard to be a disciplinarian. We drove him out of the classroom - out of the school and probably out the teaching profession. Vlak made an impression on me - I did well in his class. He was a great teacher and genuinely interested in the subjects he taught.
A recent picture of Dave with his daughter, Sarah and his parents >>
Moseley School of Art was a very important part of my life. I am a creative designer and I was most fortunate to have had the chance to attend such a school as Moseley, which helped develop this part of my personality.
Most of my drawing, designing and craft skills were learned and nourished there. Unfortunately, I think my experience at Moseley was diminished because I was a troublemaker. I lost track of virtually all of the friends and people I knew from that time, so It was a pleasure going over the MSAA website, which brought back many memories I thought had long-since disappeared.
I am already planning several trips to Europe next year and will try to be in Birmingham around May 18th to attend the reunion.