Moving to England when I was fifteen was quite an adventure. Eight days crossing the ocean to arrive in another country where everything seemed so peculiar. I lived with my sister and brother-in-law who was to study at the University of Birmingham. I had been warned that I may have to go to an all girls school, and was unwilling. The head of the Mathematics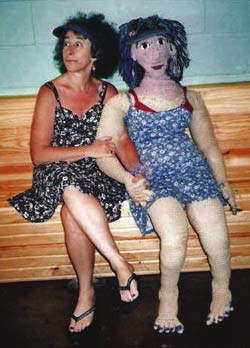 department was friends with the headmaster of Moseley Road School of Art and suggested we look into that. What? An art school for kids? That sounded simply amazing. Art AND boys? Well, this HAD to be good. It must have been 1967, I came near the beginning of fifth form.
Here I am, pictured with my crochet self portrait >>>
Of course, I was really shy and being the novelty that I was just for being an American didn't make it easy to make friends, let alone to take advantage of the proximity of all the "cute" guys. But eventually I made friends, or I should say, they made friends with me. Susan Ryan, Heather Botrill, Susan Mead, Naomi Joseph, mainly. But everyone was so very nice to me, always, and complimentary. Nobody ever made fun of me for MY peculiarities, saying things wrong or not understanding what was obvious to everyone else.
I loved all the art classes. Getting to do such a variety of art for so much of the day & being surrounded by a whole school full of kids that also loved art was a dream. I felt so extremely fortunate to be there & be one of you, in that sense. I'm still amazed that I happened upon this highly unlikely opportunity at this time of my life. Before moving to England I hated school. But all this art!
There was even a class for embroidery! History had always been the most painfully boring subject in existence until the wonderful history teacher that made everything so fascinating that I remembered everything she told about and all I had to do to study was memorize dates. Later I described it to people as the only time in my life I ever liked school.
The weather and the food were different stories. Though I like rainy weather now, at the time I found it dreary. Going to school in the dark and coming back home again in the dark was not great. On the other hand, I never got tired of double decker buses. I took three of them, short rides, to school, or took two and walked. I ALWAYS sat upstairs. I also remember the heavy chocolate smell of the Bournville plant on dark, damp mornings. Yummy. Cadbury is still my favorite chocolate.
Once, for a group of work, the theme was the neighborhood, or such. In embroidery I made an assortment of flowers and grass on burlap. To make it interesting I put over it a piece of rusty chain link fence that I had cut out from the fence at the end of the garden. Not until some teachers' comments in the critique did I realize maybe that wasn't such a considerate thing to do. But I was given credit for being original. Mr. Taylor's History of Children's books stands out in my mind, my first lino print. And analytical drawing with Mr. Swift, the cool teacher. I wasn't much for painting.
I would have preferred to take shop than dressmaking, but I certainly learned sewing things that came in handy. The teacher was a kindly little woman. Also the dressmaking classroom and teacher were refuge from the morning religious exercise. Although I don't really remember who most of the other students in there were, except Miry Lev, the other Jew, it was a pleasant routine. I did, once, get to work in the shop constructing a wire form for my crocheted Christmas tree for a student exhibition downtown somewhere: my first soldering experience.
In addition to trips to see Macbeth in a theatre and Romeo and Juliet in an outdoor castle, there was a memorable trip to Iron Bridge, away in a little town somewhere. It was a geography trip and we also stopped at a little farm.
But best of all was the inspiration of working in an creative environment with so many talented people that took art seriously. It was really exciting. Before, in the States, art class was maybe a weekly occurrence that no one but me particularly cared about. I'm sure being in the presence of all my talented classmates & dedicated teachers who took my art seriously at that age had a major affect on the importance that art has in my life. It's so amazing to think that by such a set of freak coincidences I had this unique opportunity to experience myself as so foreign but so alike and was able to identify with such a special bunch of folks at the impressionable time of my troubled youth.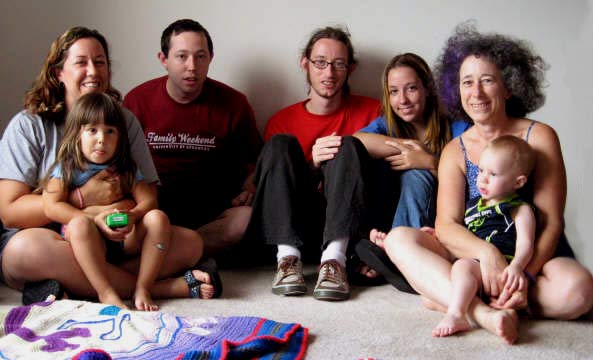 This is a picture of all of us!
My social life was not very normal. I never fit in enough to see much of classmates outside school. I tagged along with my sister and brother-in-law to friends who were other foreign PHD math students at the University of Birmingham and spent a lot of time alone. I like being alone now but at that time I was pretty lonely. Poorly adjusted adolescent that I was, I came back to this country in the middle of the first half of sixth form when I ran out of people that were willing to put up with me. I completely gave up on school shortly after that and commenced to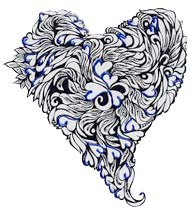 pursue my life of on the road. Eventually I ended up as what we call here a "back to the lander" in Arkansas. Inexpensive land attracted people from all over the country, idealistically wanting to be farmers. I was attracted to the lifestyle and lived on a commune as well as with families but never owned land of my own until around 1999.
I went back to England a few more times, as my sister still lived there. Once when I was around nineteen I stayed a year and traveled around the Scottish coasts camping. It was during this time I started crocheting blankets out of Scottish tweed yarn. While back in Birmingham I attended some night classes at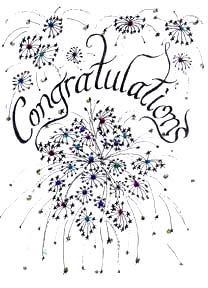 MRSA with my sister. Weaving and maybe shop. The last time in England was with my daughter when she was four, a week's visit with my sister who also had a child. Shortly after that her husband got a job in the States and they still live here. I got married and lived in the Ozark Mountains in Arkansas. Two more kids & cattle farming, no time for art.
Later, divorcing, I got a degree in mechanical drafting. I really enjoyed studying it and being back in school. During the time I was in school, the industry went from hand drafting to computer drafting rather quickly. I had never wanted a career in front of a computer screen so never had a drafting job. I think had I gotten the architectural drafting degree it would have been more practical. They still use some hand drawing and I may have made better use of it, since that's what I became interested in and built my own house. I worked as a carpenter's finisher for a bit and took art classes at the University of Arkansas in Fayetteville.
Printmaking was my passion at this time, but never found it practical to continue it out of school. I started making greeting cards about fifteen years ago and with persistence this has become my livelihood. A suitable cottage industry for a simple lifestyle. I'm also crocheting again, as art and more practical purposes.
All the years and miles have brought me to be writing this in a little cabin that I built by myself on the top of an Ozark Mountain in Arkansas. I have three wonderful children that make me very proud and two grandchildren that are pure fun.
Noticing the name of an artist from Texas, Aj Smith a couple times, I remembered Aj from MRSA. Remembering how absolutely talented he was I was sure he was a famous artist with a web presence. That's how I came to find the MRSA site. How exciting all these years later!
It really DID exist - I didn't just dream it.
More examples of Tina's work may be seen by visiting
www.crochetinsider.com/TinaOppenheimer.html