Paul Bartlett MA (RAS), RBA, RBSA
Paul Thomas Bartlett is a visual artist, author, lecturer and facilitator who was born in Birmingham, England on the 7th July 1955.
Paul was awarded a place at the Moseley School of Art, Birmingham in 1966 at the age of 11 years. He remained at the school until 1973, when he left to undertake studies at the Falmouth College of Art. He graduated from the College in 1976 with a BA (Hons) degree in Fine Art, Painting, Printmaking, Sculpture, Complementary Studies and History of Art.
Following his time at Falmouth, Paul was honoured by the opportunity to study at the Royal Academy Schools, London, until 1980, on attaining a Post Graduate Certificate and MA in Painting and Drawing, Printmaking and Complementary Studies. Since that time, he has acquired a wide range of experience and qualifications in Teaching, plus a Postgraduate Diploma in the History of Art and Design from the UCE.
Paul is a Member of the Royal Society of British Artists (RBA), a Committee Member of the Birmingham Pastel Society (BPS) and a Member of the Royal Birmingham Society of Artists (RBSA).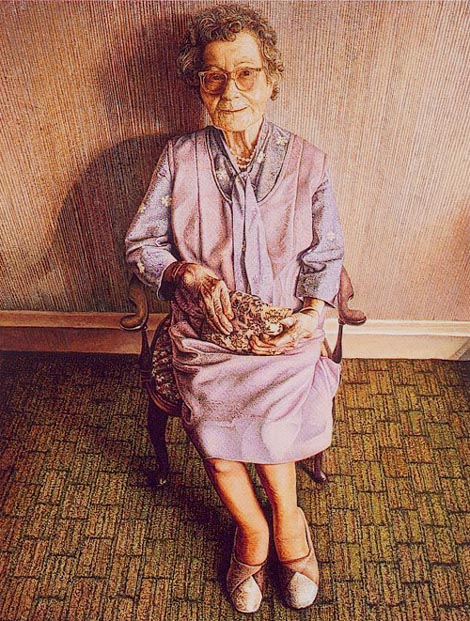 "My Grandmother, Mrs. Doris Tompkins, 87 Years Young"
Paul Bartlett
Mixed Exhibitions
2004 'RBSA' : 'Artists and the Human Form'
2003 'RBA', London.
2003 'RBSA', 'BPS' at UCE.
2003 The Moseley School of Art Spring Exhibition
2002 'RBA', London. 'RBSA Members & Associates Exhibition',
2001 UCE / Birmingham Institute of Art & Design: 'BPS' & 'RBSA Members & Associates Exhibition'. 'MAC Staff Show'.
2000 'RBSA' Invited Exhibitor: 'The Topographical Tradition'(10 works); 'Figures In My Landscape'
1999 U.C.E: 'BPS'. Midlands Art Centre: 'MAC Staff Show'. 'RBSA On Tour.'
1998 Royal Academy of Arts, London: 'The first exhibition of the Reynolds Club formerstudents of the RA Schools.'
1997 U.C.E./ Margaret St College of Art, Birmingham
1996 Mall Galleries, London: 'London Pastel Society', 'Making a Mark' (invited artist), 'The Discerning Eye' (invited artist).
1995 Custard Factory Arts Complex, Birmingham: 'Naked+' 10 artists inspired by the body.
1993 '2nd City Art Show': Birmingham Art Trust, Birmingham
1987 National Portrait Gallery, London: 'Portrait Award.'
1986 Bournville College of Art, Birmingham: Staff Show.
1984 National Portrait Gallery, London: 'Portrait Award.'
1982 'Daily Mirror World of Newspapers Art Competition'
1980 I.C.A: 'New Contemporaries'. Piccadilly Gallery, Cork St, London
1979 Victoria & Albert Museum: 'The Garden Exhibition'
1978 Royal College of Art, London: 'Three College Show': ( RA, RCA, Slade)
1976 Victoria Art Gallery, Bath: 'Winsor & Newton Award'.
1975 'Stowells Trophy National Competition for Art Colleges.'
1974 Midland Group Gallery, Nottingham: 'Christmas Printmaking Show'
1973 Herbert Art Gallery, Coventry: 'Midland Printmakers'
1972 'Midland Printmakers' at numerous venues 1972-1976.
1971 RBSA: numerous showings from this year onwards.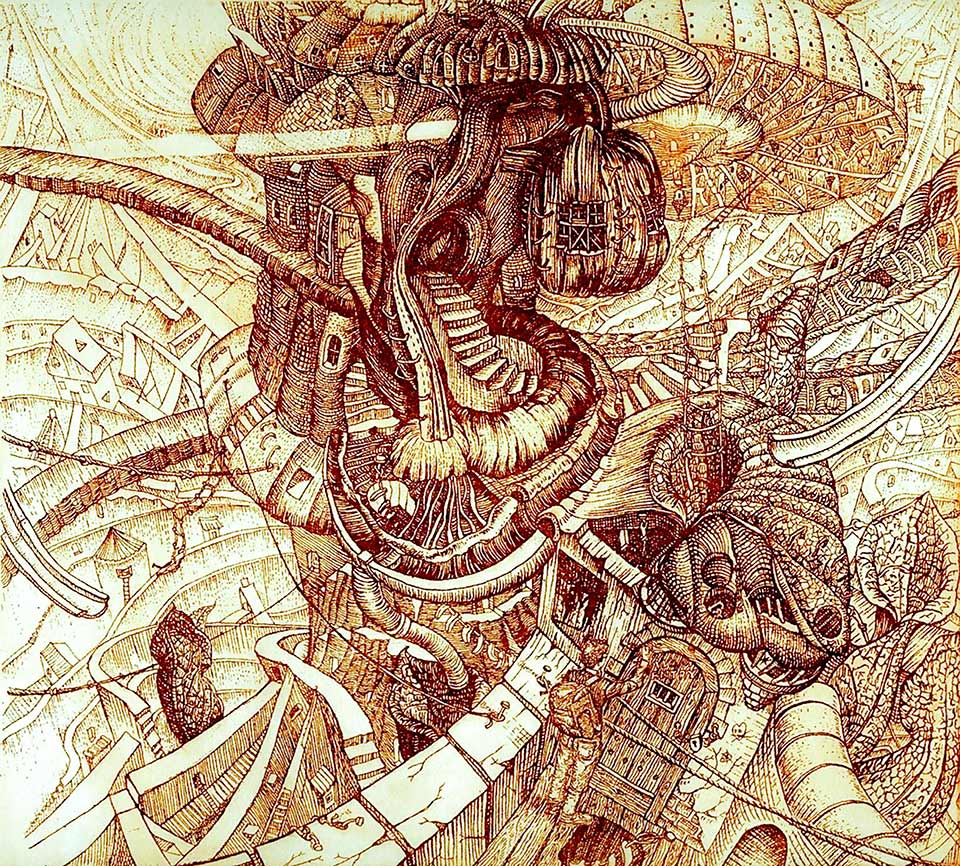 "No Entry"
Paul Bartlett
"Lynda in Still Life Context"
Paul Bartlett
Prizes
2004 £20,000 First Prize "Not the Turner Prize" Competition by Daily Mail
2003 RBSA Members and Associates: Coley and Tilley Prize
2002 RBSA Open Pastel & Drawing Exhibition - Judd Medical Prize for Drawing.'
1996 RBSA £1000 Prize Exhibition' - overall winner.
1995 RBSA Open Pastel & Drawing Exhibition - Acco-Rexel Award'. N.E.C. Artists & Illustrator's Exhibition - 'Goldline Best Use of Pastel Award.'
1994 BPS Bond Gallery Show - 'Rembrandt / Royal Talens Award'.
1991 Federation of British Artists / Alexon - 'Women on Canvas Portrait Painting Competition'
1984 Dudley Art Gallery: 'Mid Art 84'.
1982 RBA - 'Rowney Award.'
1981 Midlands Arts Centre: 'Open 25' Louise Cleare Memorial Prize.
1980 'Hunting Group Art Prizes'. 'Spirit of London Painting Competition' - G.L.C Prize. RA Schools- 'Sir James Walker Prize' for "outstanding group of works."
1980 RA Schools 'Landseer Life Painting'. Royal-Over-Seas-League - Under 35 Joint 1st Prize including presentation to HRH Queen Elizabeth II
1979 Royal Overseas League - Under-35 Joint 2nd Prize. 'Stowells Trophy National Competition for Art Colleges' - overall winner. RA Schools - 'Academic Drawing' & 'Still-Life.'
1978 RA Schools 'Turner Gold Medal.'
1977 RBSA 'Feeney Award'.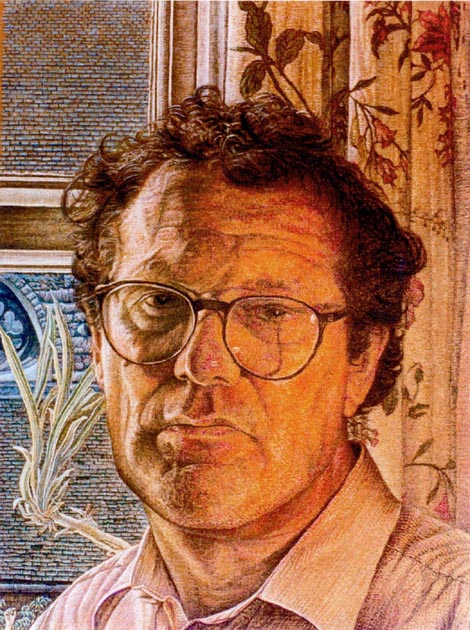 Outside Inside, Inside Outside"
Paul Bartlett
Commissioned Works
1991 Business Woman of the Year - Oil portrait of celebrity chef, author, and broadcaster Prue Leith as result of winning Alexon / Federation of British Artists Portrait Competition
1996 'The Encyclopedia of Fantasy Art.' Illustration and text
1998 Dr. Anthony Daniels, author and media personality
In addition, Paul is a published author, having been commissioned to write numerous works in various media published in books, and has been the subject of a large number of press reports.
Pauls work is characterized by intricacy of detail often executed over prolonged periods of time. He describes his work as "incorporating layers of time and understanding via a shifting balance between inward and outward looking. Thematic threads of development (of his work) include:
· Extension of what is usually expected of a Life Room
· Homage to Home and Family
· Portraiture
· Self Portraiture
· Allegorical prints indicative of the stages in Life
· Meaningful fantasy
· Prolonged observation of suburban gardens
· Plants and Flowers
· An Artists Lay Figure as a vehicle to combine self analysis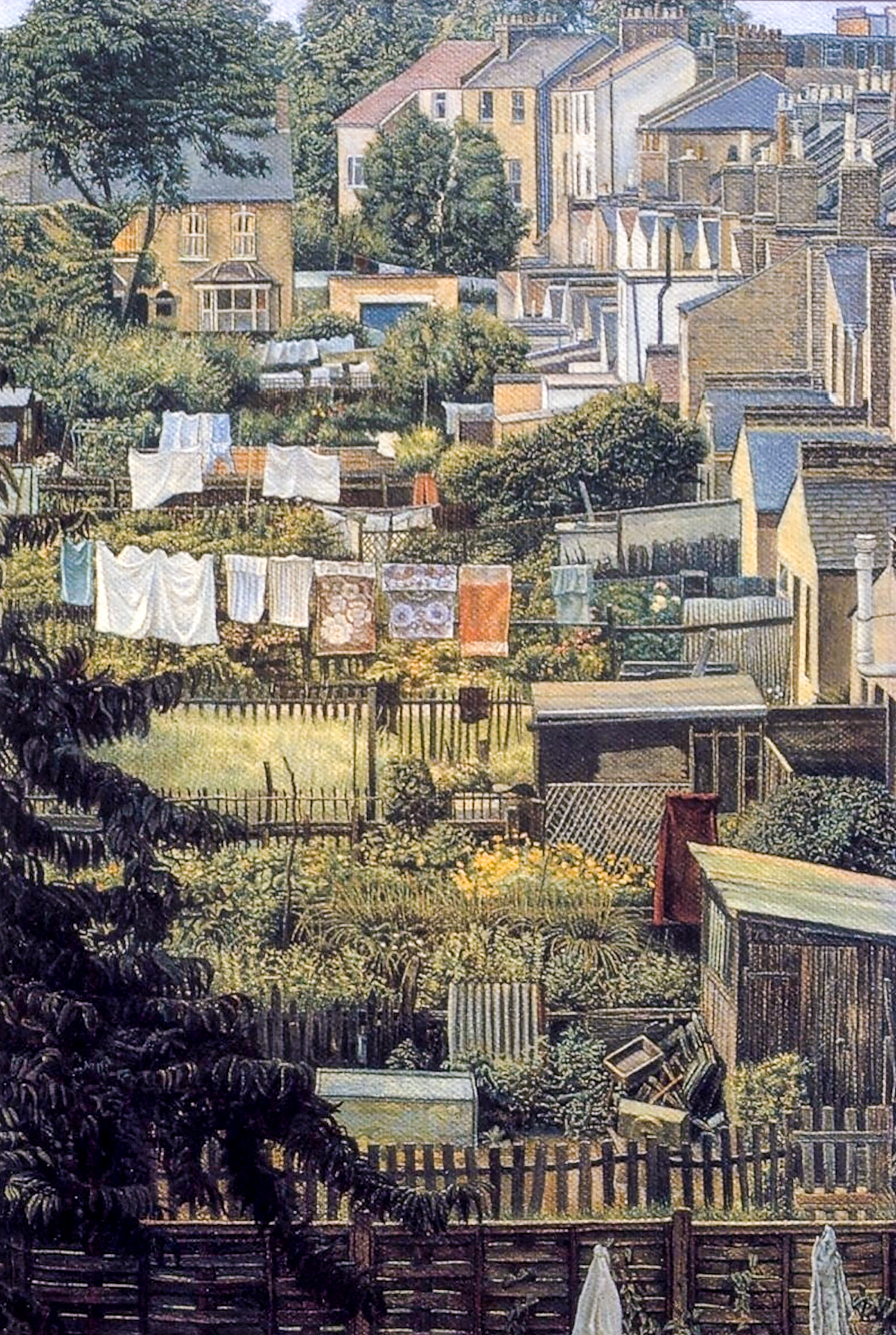 "Penge"
Paul Bartlett
Additional information about Paul Bartlett:
MA/Postgraduate Certificate - fine art painting (Royal Academy Schools, London.)

Postgraduate Diploma - Art History (UCE.) BA Hons - Fine Art (Falmouth.)

FE & AE Teaching Cert' (UCE.)

Over thirty years of Adult Education, Further Education & tertiary teaching/workshops.

Winner of 'Not the Turner Prize' 2004, numerous other prestigious prizes, and inclusion in many books.

Mixed exhibitions include: National Portrait Gallery, V & A Museum, Mall Gallery London, Birmingham Museum & Art Gallery, Royal Birmingham Society of Artists.

Further information about the artist may be seen at:

https://macbirmingham.co.uk/paul-bartlett

"Senior Members" at www.royalsocietyofbritishartists.org.uk

"Members" at www.rbsa.org.uk

"artists" at www.birminghamprintmakers.org

www.freeindex.co.uk/profile(paul- bartlett-paintings)_228448.htm

Paul welcomes contact from interested persons by email HERE