The 2005 Spring Exhibition of Works for Sale by Former Pupils and Teachers was held at the Moseley School of Art between the 15th. and 21st. May. This, the second exhibition, was organised by our newly-appointed Exhibitions Secretary, Pam Headford (Gilbert), who was a pupil at the school between 1954-57, assisted by Terry Neal, a pupil between 1947-50.
Pam writes -
Reflections on the 2005 Spring Exhibition
"Can't we do this every year?" someone was overheard to say - and why not indeed?
Flattered to be asked I certainly had little concept when accepting the role of Exhibition Secretary the complexities that lay ahead.
There had been a good response early in 2005 with more than lOO indications of interest in exhibition, so imagine our dilemma when news came that the company who had supplied the excellent 2003 exhibition stands had "gone into liquidation" (grim for them) and a problem for us as we had anticipated their supplying the exhibition stands for this forthcoming exhibition.
Frantic enquires were made to anyone with exhibition connections but to no avail. During this time several of my contemporaries (1957 leavers) were very active on my behalf endeavouring to fmd solutions regarding the proposed exhibition and help for which I remain most grateful. The outcome of all these strategies was the resolve to build it ourselves.
It was very much at the ninth hour that willing band of volunteer 'builders' emerged they being the cream of the 1940's and 50's leavers and together assisted by Graeme Collins and his son Richard and my long suffering husband (not M.S.A. - educated in Suffolk!) the exhibition stands emerged from the 32, 8'x4' panels which found their way up the multitude of steps within M.S.A and after many coats of emulsion the fmal results were very satisfactory .
Meanwhile the volume of exhibitors shrank from the early promise of high numbers to just 61 entries. The standard of work and variety of contents was excellent and high compliment paid by exhibition visitors who included Carl Chinn and his BBC team as part of the Monday Exhibition Opening Ceremony significantly following the publicity we had in various local newspapers this produced several ex-pupils who knew nothing of the event but were delighted to have the opportunity to explore the building and enjoy the exhibition too! Amongst our other visitors were ladies from the local D.S.S offices in their lunchtime curious to see what lay behind the bannered building.
It is hard to know if the restrictions we had to observe regarding the depiction if the nude figures had a bearing on our final entry numbers. Also many comments were made regarding the complex 'conditions' and cost of entry. This is something to resolve before the next event.
From a personal point of view I found organising the event a huge learning event and at times daunting. But in contrast the contacts made between the prospective exhibitors by various forms of correspondence were very rewarding and it was a great pleasure to be able to meet with them at the Exhibition, truly making the whole effort worthwhile.
A terrific team evolved from this event and it is they who truly deserve the entire credit for making the Spring Exhibition a reality.
A huge thank you to Terry Neal, Assistant Exhibition Secretary and Ace Exhibition stand maker and the team - Ivan Perkins, Robert Sedgley, Tony Light, Richard E Smith, Bryan and Matt Headford, together with helpers Pat Reynolds, David Smith, Mike Richardson and John Norton, and grateful thanks also to John Walters (lighting) and John Mackay (for the excellent Catalogue and posters which he supplied free of charge).
Pamela Headford
Exhibition Secretary
_______________________________________________
As Pam says above, we were spoilt for our first exhibition in 2003 when former pupils Dave Drinkwater and Terry Savin provided and installed a complete exhibition display system together with sophisticated lighting units, free of charge. We are indebted to them for their generosity. Unfortunately, Dave and Terry (both of whom were part of the very first "11+" intake and left the school in 1968) were unable to do the same again for our 2005 Exhibition due to professional commitments and for other reasons beyond their control.
Approaches to see if any of our other former pupils with connections in the Exhibitions industry could help produced no results, so it became necessary to design and build our own construction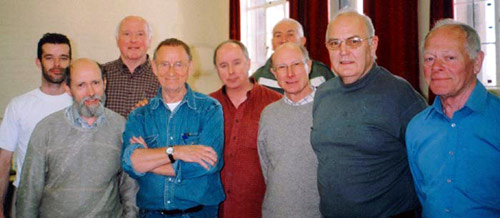 - something that Pam (a former display artist at Rackhams) hadn't anticipated having to do - but, without complaint, she and Terry Neal (1950), our Assistant Exhibitions Secretary, setabout designing and building our display stands. Pam and Terry proved to be an effective team and we were fortunate to have a number of great contributors (including Bryan, Pam's husband - he worked harder than anyone else and wasn't even a former pupil !) who worked cheerfully during the week preceding the Reunion to build a display which would not only meet our needs for this year's show, but would be demountable so that it could be stored at the school for future use.
I know that Pam and Terry would wish to specifically thank everyone in the picture above which Pam took for their help in constructing the exhibition display : (lto r) Richard, Robert Sedgley (1958) who is now a professional painter and lives in Spain, Tony Light (1947) now retired from a highly successful career as an illustrator both here and in the United States, Mike Richardson (1949) a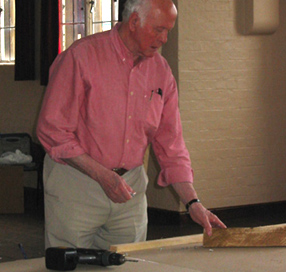 former teacher and successful artist, Graeme Collins , Roger Smith (1949)(rear) a professional painter, Terry Neal, now retired from his successful career as a from his successful career as a lithographer and concentrating on his career as a painter, Bryan (Pam's husband), and Ivan Perkins (1951) a former design draughtsman at Land Rover plc.
Not shown in the picture are the others who deserve special praise - David Smith (1970) who works at the Birmingham Art Gallery, Patti Reynolds (Mann)(1949), Ron Carter (1960), Barrie Dolphin (1951), Keith Parrott and David Walton (1959) - thanks to everyone and our apologies to anyone we've left out.
Whilst it would be nice to hold an exhibition every year, the very high levels of time and energy inputs by the few who make the exhibitions possible make this an unreasonable aim. It has therefore been resolved that a Spring Exhibition will be staged every two years.
One of the objectives was to donate part of the commission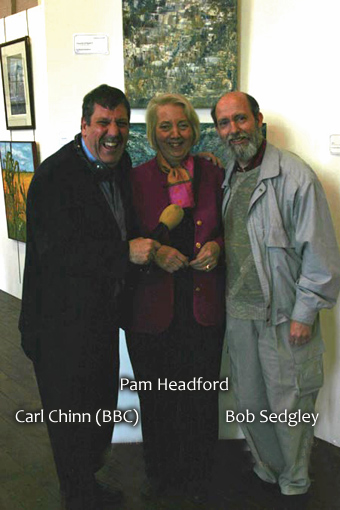 charged on the sale of works to the refurbishment fund for the school. The 2003 exhibition had been a success on many levels, enthusing many former pupils to put brush to canvas again, resulting in a number of works being sold and commissions for further works being secured.
We were all very disappointed that unfortunately, only one work was sold during the 2005 exhibition, so an alternative means of making a contribution is being considered.
All former students and teachers of the school had been invited to exhibit their works. It wasn't necessary to have exhibited before - it didn't matter as long as it was felt that the work was of saleable quality. The number of eventual entries for the 2005 show was, surprisingly, far lower than expected, given the initially healthy level of interest.
The Exhibition had been organised so that everyone concerned would win.
Those ex-pupils and teachers who had exhibited works would win from the exposure given to their work at a level normally reserved for those with an established reputation, and would be able to sell their work at comparatively low commission levels.
All of the other ex-pupils would win because we'd have a focal point for our Reunion, and who knows ? We may even have been a catalyst for some of those gifted young boys and girls who grew up and lost their way to take up the brushes again . . . . The School would win because we would be raising money from the sale commission from sold works to help with the renovation programme, and we'd be raising the profile of the school to attract attention to its plight and promote its refurbishment.
The Exhibition
The entries were brought to the school on Receiving Day, Sunday, 8th. May.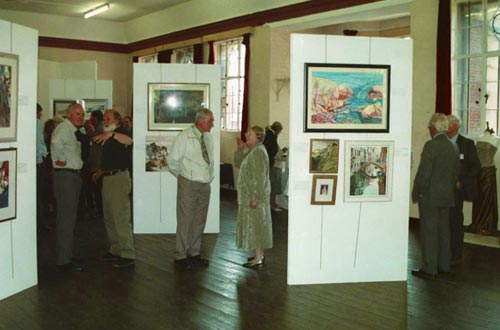 The Exhibition commenced on Sunday, 15th May as a preview for those who attended the Whole School Reunion, and was officially opened by BBC Radio WM's Carl Chinn live on local radio at 12 noon, Monday 16th. May.
The exhibition attracted 60 entries this time around, compared with 115 catalogued entries for our 2003 show. A number of those who had expressed interest in exhibiting withdrew at a late stage due to other commitments. This was a disappointment for Pam who, naturally, would have liked many more entries, particularly from the more prominent exhibitors who successfully showed their work at the 2003 exhibition.
The exhibition was very well received and was enjoyed by the hundreds of former pupils who attended and by the public, who visited the school during the exhibition week. Members came in to the school daily to steward the event and it was a pleasure to meet so many other former pupils who had not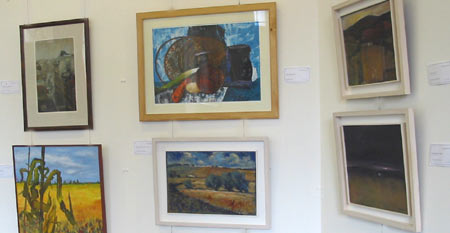 been able to make it to the Reunion - an ideal opportunity to exchange detailed memories about our experiences as children at the school.
Those who attended the exhibition will, I'm sure wish to congratulate Pam and Terry on their first exhibition.
At the same time, we all ought to be mindful that a project as ambitious as a biennial Spring Exhibition cannot be staged without the goodwill and positive support of our former pupils. Needless to say, I hope that, when the call is made, there will be an enthusiastic response to our call for contributors and exhibitors for our next exhibition. You'll be in good company, and there'll be a great team atmosphere. All of the people who helped with this exhibition and reunion will tell you that no-one is ever asked to do more than they are happy to do - it's much more a case of leaving it to you to do what you'd like to do.